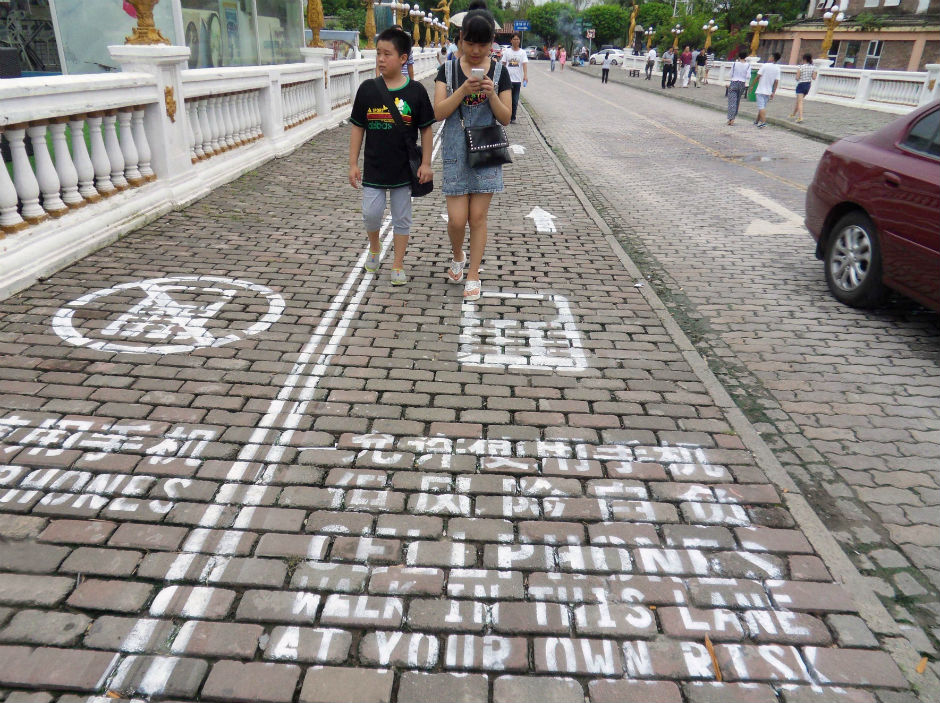 You've seen the high occupancy vehicle lane on select highways. You've seen pedestrian only zones. You've seen cycle friendly zones. Now, it's time for the slow walking lane — for pedestrians using smartphones! Perhaps we'll eventually see separate lanes for tourists with tablets, smartwatch users and, of course, a completely separate zone for texting t(w)eens.
From the Independent:
The Chinese city of Chongqing claims to have introduced the world's first 'slow-walking lane' for smartphone users.
No more will the most efficient of pedestrians be forced to stare frustratedly at the occiput of their meandering counterparts.
Two 100-ft lanes have been painted on to a pavement in the city, with one side reserved for those wanting to stare into their handheld device and the other exclusively for those who can presumably spare five minutes without checking their latest Weibo update.
However, according to the Telegraph, officials in Chongqing only introduced the signage to make the point that "it is best not to play with your phone while walking".
Read the entire story here.
Image: City of Chongqing. Courtesy of the Independent.