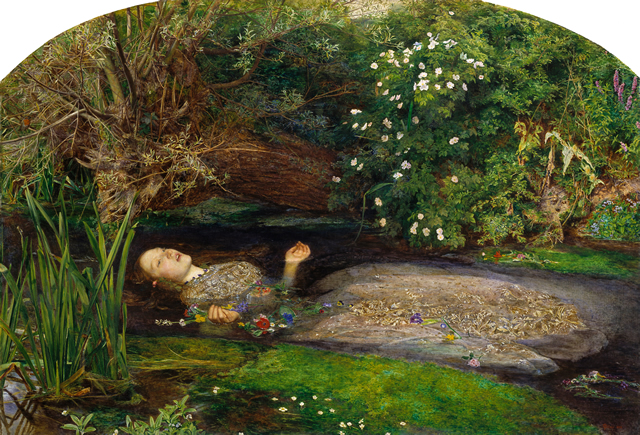 Hot on the heals of our look at literary deaths we look specifically at the greatest suicides in literature. Although subject to personal taste and sensibility the starter list excerpted below is a fine beginning, and leaves much to ponder.
[div class=attrib]From Flavorpill:[end-div]
1. Ophelia, Hamlet, William Shakespeare
Hamlet's jilted lover Ophelia drowns in a stream surrounded by the flowers she had held in her arms. Though Ophelia's death can be parsed as an accident, her growing madness and the fact that she was, as Gertrude says, "incapable of her own distress." And as far as we're concerned, Gertrude's monologue about Ophelia's drowning is one of the most beautiful descriptions of death in Shakespeare.
2. Anna Karenina, Anna Karenina, Leo Tolstoy
In an extremely dramatic move only befitting the emotional mess that is Anna Karenina, the heroine throws herself under a train in her despair, mirroring the novel's early depiction of a railway worker's death by similar means.
3. Cecilia Lisbon, The Virgin Suicides, Jeffrey Eugenides
Eugenides' entire novel deserves to be on this list for its dreamy horror of five sisters killing themselves in the 1970s Michigan suburbs. But the death of the youngest, Cecilia, is the most brutal and distressing. Having failed to kill herself by cutting her wrists, she leaves her own party to throw herself from her bedroom window, landing impaled on the steel fence below.
4. Emma Bovary, Madame Bovary, Gustave Flaubert
In life, Emma Bovary wished for romance, for intrigue, to escape the banalities of her provincial life as a doctor's wife. Hoping to expire gracefully, she eats a bowl of arsenic, but is punished by hours of indelicate and public suffering before she finally dies.
5. Edna Pontellier, The Awakening, Kate Chopin
This is the first suicide that many students experience in literature, and it is a strange and calm one: Edna simply walks into the water. We imagine the reality of drowning yourself would be much messier, but Chopin's version is a relief, a cool compress against the pains of Edna's psyche in beautiful, fluttering prose.
Topping out the top 10 we have:
Lily Bart, The House of Mirth, Edith Wharton
Septimus Warren Smith, Mrs. Dalloway, Virginia Woolf
James O. Incandeza, Infinite Jest, David Foster Wallace
Romeo and Juliet, Romeo and Juliet, William Shakespeare
Inspector Javert, Les Misérables, Victor Hugo
[div class=attrib]Read the entire article here.[end-div]
[div class=attrib]Ophelia by John Everett Millais (1829–1896). Image courtesy of Wikipedia / Creative Commons.[end-div]