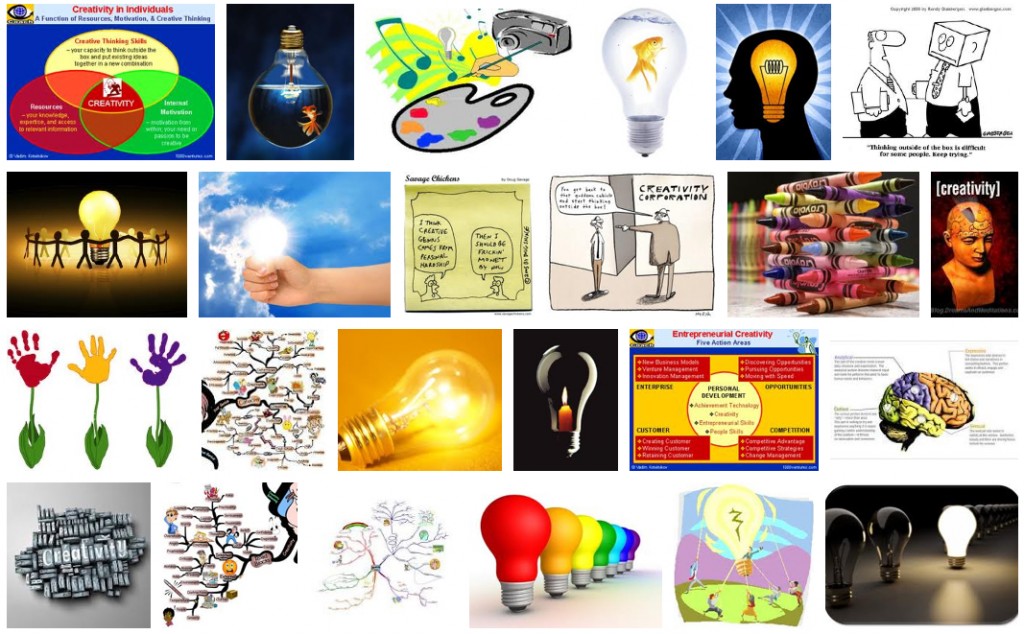 Some believe creativity stems from a sudden insightful realization, a bolt from the blue that awakens the imagination. Others believe creativity comes from years of discipline and hard work. Well, both groups are correct, but the answer is a little more complex.
[div class=attrib]From the Wall Street Journal:[end-div]
Creativity can seem like magic. We look at people like Steve Jobs and Bob Dylan, and we conclude that they must possess supernatural powers denied to mere mortals like us, gifts that allow them to imagine what has never existed before. They're "creative types." We're not.
But creativity is not magic, and there's no such thing as a creative type. Creativity is not a trait that we inherit in our genes or a blessing bestowed by the angels. It's a skill. Anyone can learn to be creative and to get better at it. New research is shedding light on what allows people to develop world-changing products and to solve the toughest problems. A surprisingly concrete set of lessons has emerged about what creativity is and how to spark it in ourselves and our work.
The science of creativity is relatively new. Until the Enlightenment, acts of imagination were always equated with higher powers. Being creative meant channeling the muses, giving voice to the gods. ("Inspiration" literally means "breathed upon.") Even in modern times, scientists have paid little attention to the sources of creativity.
But over the past decade, that has begun to change. Imagination was once thought to be a single thing, separate from other kinds of cognition. The latest research suggests that this assumption is false. It turns out that we use "creativity" as a catchall term for a variety of cognitive tools, each of which applies to particular sorts of problems and is coaxed to action in a particular way.
Does the challenge that we're facing require a moment of insight, a sudden leap in consciousness? Or can it be solved gradually, one piece at a time? The answer often determines whether we should drink a beer to relax or hop ourselves up on Red Bull, whether we take a long shower or stay late at the office.
The new research also suggests how best to approach the thorniest problems. We tend to assume that experts are the creative geniuses in their own fields. But big breakthroughs often depend on the naive daring of outsiders. For prompting creativity, few things are as important as time devoted to cross-pollination with fields outside our areas of expertise.
Let's start with the hardest problems, those challenges that at first blush seem impossible. Such problems are typically solved (if they are solved at all) in a moment of insight.
Consider the case of Arthur Fry, an engineer at 3M in the paper products division. In the winter of 1974, Mr. Fry attended a presentation by Sheldon Silver, an engineer working on adhesives. Mr. Silver had developed an extremely weak glue, a paste so feeble it could barely hold two pieces of paper together. Like everyone else in the room, Mr. Fry patiently listened to the presentation and then failed to come up with any practical applications for the compound. What good, after all, is a glue that doesn't stick?
On a frigid Sunday morning, however, the paste would re-enter Mr. Fry's thoughts, albeit in a rather unlikely context. He sang in the church choir and liked to put little pieces of paper in the hymnal to mark the songs he was supposed to sing. Unfortunately, the little pieces of paper often fell out, forcing Mr. Fry to spend the service frantically thumbing through the book, looking for the right page. It seemed like an unfixable problem, one of those ordinary hassles that we're forced to live with.
But then, during a particularly tedious sermon, Mr. Fry had an epiphany. He suddenly realized how he might make use of that weak glue: It could be applied to paper to create a reusable bookmark! Because the adhesive was barely sticky, it would adhere to the page but wouldn't tear it when removed. That revelation in the church would eventually result in one of the most widely used office products in the world: the Post-it Note.
Mr. Fry's invention was a classic moment of insight. Though such events seem to spring from nowhere, as if the cortex is surprising us with a breakthrough, scientists have begun studying how they occur. They do this by giving people "insight" puzzles, like the one that follows, and watching what happens in the brain:
A man has married 20 women in a small town. All of the women are still alive, and none of them is divorced. The man has broken no laws. Who is the man?
[div class=attrib]Read the entire article here.[end-div]
[div class=attrib]Image courtesy of Google search.[end-div]