Since 2006 Evolo architecture magazine has run a competition for architects to bring life to their most fantastic skyscraper designs. All the finalists of 2012 competition presented some stunning ideas, and topped by the winner, Himalaya Water Tower, from Zhi Zheng, Hongchuan Zhao, Dongbai Song of China.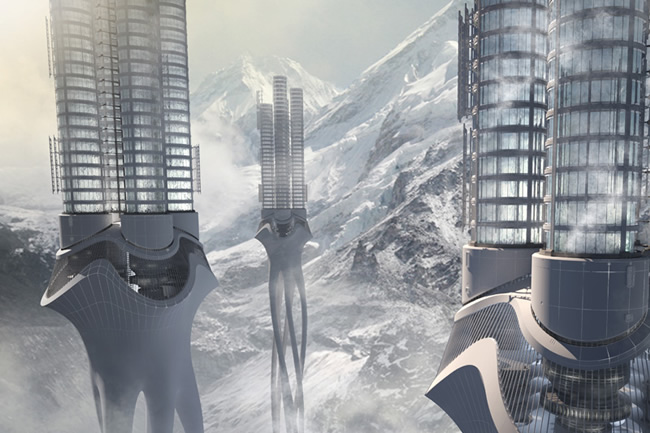 [div class=attrib]From Evolo:[end-div]
Housed within 55,000 glaciers in the Himalaya Mountains sits 40 percent of the world's fresh water. The massive ice sheets are melting at a faster-than-ever pace due to climate change, posing possible dire consequences for the continent of Asia and the entire world stand, and especially for the villages and cities that sit on the seven rivers that come are fed from the Himalayas' runoff as they respond with erratic flooding or drought.
The "Himalaya Water Tower" is a skyscraper located high in the mountain range that serves to store water and helps regulate its dispersal to the land below as the mountains' natural supplies dry up. The skyscraper, which can be replicated en masse, will collect water in the rainy season, purify it, freeze it into ice and store it for future use. The water distribution schedule will evolve with the needs of residents below; while it can be used to help in times of current drought, it's also meant to store plentiful water for future generations.
Follow the other notable finalists at Evolo magazine after the jump.