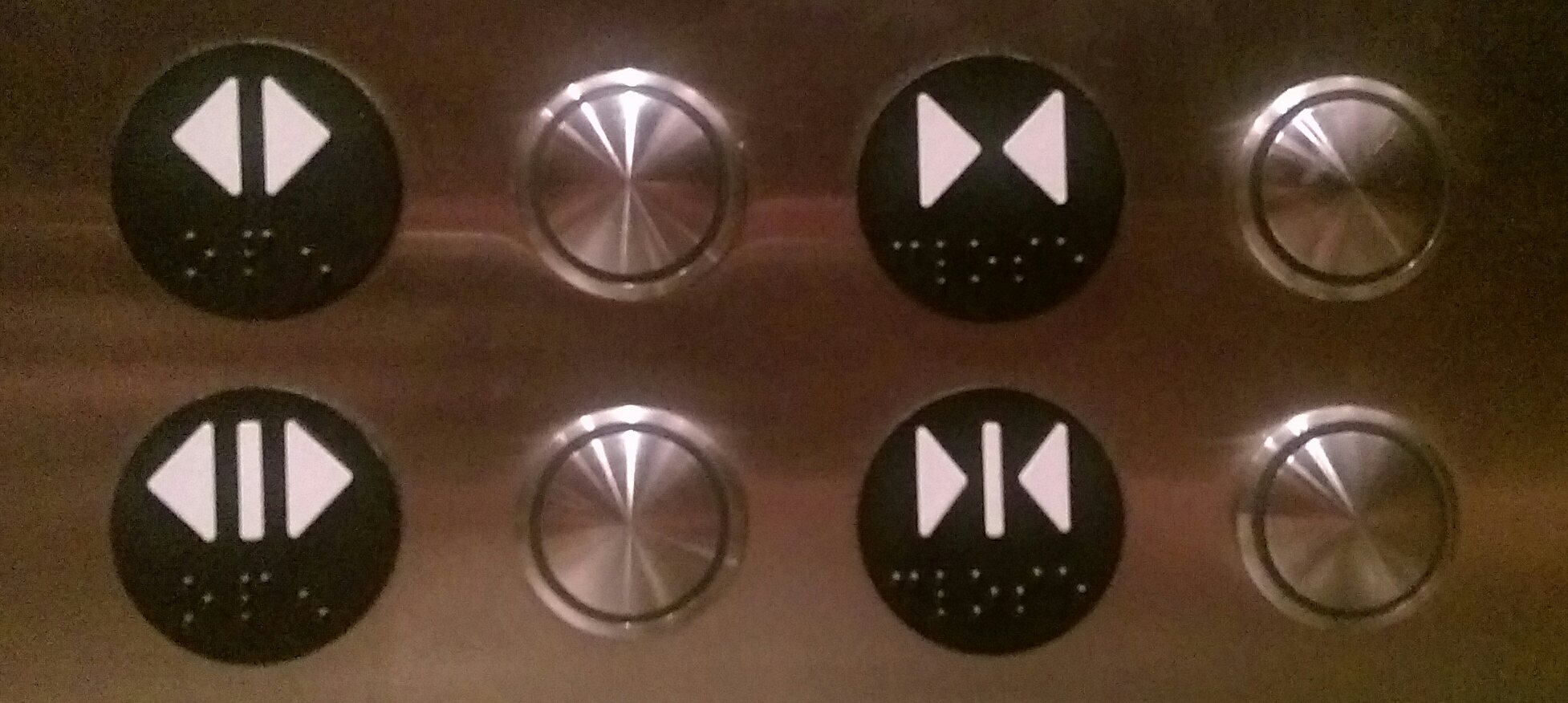 Press a button, then something happens. Eat too much chocolate, then you feel great (and then put on weight). Step in to the middle of a busy road, then you get hit by an oncoming car. Walk in the rain, then you get wet. Watch your favorite comedy show, then you laugh.
Every moment of our lives is filled with actions and consequences, causes and effects. Usually we have a good sense of what is likely to happen when we take a specific action. This sense of predictability smooths our lives and makes us feel in control.
But sometimes all is not what is seems. Take the buttons on some of the most actively used objects in our daily lives. Press the "close door" button on the elevator [or "lift" for my British readers], then the door closes, right? Press the "pedestrian crossing" button at the crosswalk [or "zebra crossing"], then the safe to cross signal blinks to life, right? Adjust the office thermostat, then you feel more comfortable, right?
Well, if you think that by pressing a button you are commanding the elevator door to close, or the crosswalk signal to flash, or the thermostat to change the office temperature, you're probably wrong. You may feel in control, but actually you're not. In many cases the button may serve no functional purpose; the systems just work automatically. But the button still offers a psychological purpose — a placebo-like effect. We are so conditioned to the notion that pressing a button yields an action, that we still feel in control even when the button does nothing beyond making an audible click.
From the NYT:
Pressing the door-close button on an elevator might make you feel better, but it will do nothing to hasten your trip.
Karen W. Penafiel, executive director of National Elevator Industry Inc., a trade group, said the close-door feature faded into obsolescence a few years after the enactment of the Americans With Disabilities Act in 1990.
The legislation required that elevator doors remain open long enough for anyone who uses crutches, a cane or wheelchair to get on board, Ms. Penafiel said in an interview on Tuesday. "The riding public would not be able to make those doors close any faster," she said.
The buttons can be operated by firefighters and maintenance workers who have the proper keys or codes.
No figures were available for the number of elevators still in operation with functioning door-close buttons. Given that the estimated useful life of an elevator is 25 years, it is likely that most elevators in service today have been modernized or refurbished, rendering the door-close buttons a thing of the past for riders, Ms. Penafiel said.
Read the entire story here.
Image: Elevator control panel, cropped to show only dual "door open" and "door close" buttons. Courtesy: Nils R. Barth. Wikipedia. Creative Commons CC0 1.0 Universal Public Domain Dedication.