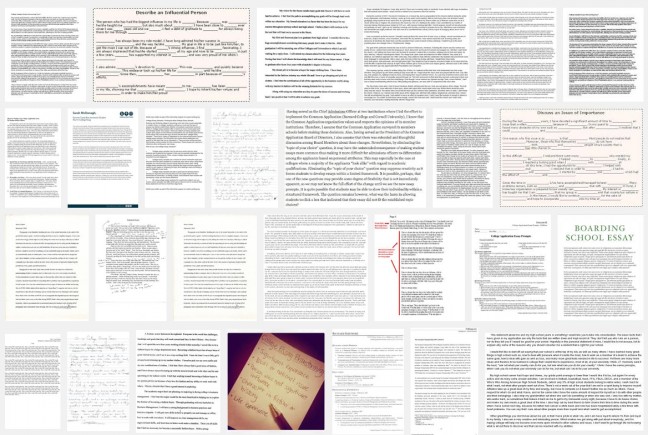 From the Wall Street Journal:
This spring, with little fanfare, the folks behind the Common Application—the main application form for almost 500 of the nation's top colleges and universities—announced a big change: the personal statement, the form's core essay, has been extended from 500 to 650 words long.
I thought: That'll be $13,000.
Several years ago, on a high floor in a midtown Manhattan office, a father offered me $10,000 to write his son's personal statement. Apparently he had misunderstood what was meant by "independent college applications adviser." The publishing industry may be in a tailspin, but in some places, writers can still earn $20 a word. Thanks to the Common Application's changes (and not including inflation), that's $13,000 a kid.
Though I had other "day jobs," for 15 years I worked discreetly as a college-applications adviser in cities from Los Angeles to London. I never wrote a student's essay, but I was practicing a dark art: such tutoring privileges the elite whose parents can afford it and profits from a miserable process.
The grim statistics of the college admissions race (last year Harvard reported a 5.79% acceptance rate), fueled by an obsession with trophy schools, have warped what might be a powerful threshold for adolescents. At the very moment when teenagers are invited to offer what they've learned and who they've become, their voices are hijacked by well-meaning adults who think kids can't possibly be allowed to risk answering these questions on their own.
High-school college counselors tend to nudge kids away from sentiment. Not a bad intention, but an adolescent barred from her feelings is an adolescent paralyzed. Consider the young woman I worked with, who wrote draft after deadening draft about environmental degradation. She didn't really care about trees, and she had a B in biology. She was an otherwise happy cheerleader who liked history and whose mother had been diagnosed with late-stage breast cancer. Her drafts revealed her feeling that her world was ending, but there was nothing she could do to stop it.
So why not just write the truth?
"No sick relatives," said her college counselor. "Too manipulative, too obvious."
We set that aside and started again. She began: "My college counselor told me not to write about my mother's cancer, but if you want to know anything about me, you have to know what I'm dealing with every day of my life."
She wrote about her mother's illness after all, and was accepted most everywhere.
More damned are the students who have been coached to hide their privilege with a wash of community service. It was difficult to find sympathy for the girl whose "most significant activity" was quarterly visits to a local nursing home with her a golden retriever.
What might this 17-year-old have written about? I don't know. She never revealed what mattered to her, beyond fashion or status. I suspect there might have been a terrific essay about appearances and the cost to individuality of constant evaluation, but I was a tutor, not a therapist.
The strong student was shocked to be accepted nowhere but a distant backup.
A hedge-fund manager rewrote his son's application. The boy had been rejected early decision by the father's alma mater. In his revision, the father posited that a community benefits from a range of individuals, the stars and the average people alike; and argued, in the first person, for the boy's admission by virtue of his mediocrity.
Getting rejected didn't break this boy's heart. His father did.
In my years handling applications to elite schools, from Harvard to Haverford, Davidson to Dickinson and everything in between, I was often surprised by where students did gain acceptance. But in every case it was a student who wrote a fabulously independent essay. Not necessarily hyper-sophisticated. But true.
Read the entire article here.
Image courtesy of Google search.