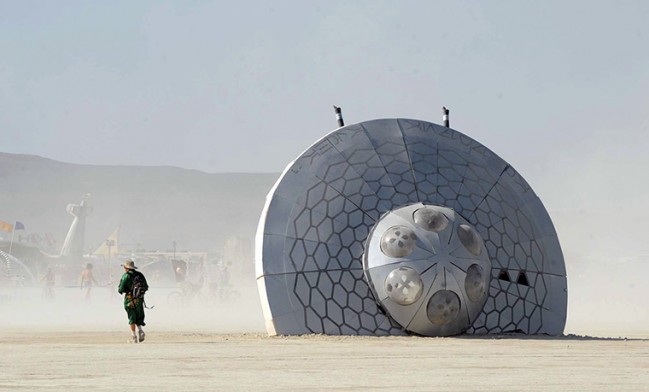 Not far from the alien conspiracy theories of Area 51, artists and revelers gather for the annual pilgrimage to burn the man in the Nevada desert. With attendees now numbering in the 50-80,000 range the annual, week-long Burning Man festival has become a mainstream media event.
It was originally a more humble affair — concocted by Larry Harvey and Jerry James as a bonfire ritual on the summer solstice or as they called it an act of "radical self-expression". They held the first event in 1986 on a San Francisco beach, where they burned a wooden effigy of a man and his dog. The event has since grown and moved to the Nevada desert; the Burning Man moniker has stuck ever since and the (radical) self-expression lives on.
For more images from this year's event jump here or visit Burning Man online.
Image: Burning Man 2013, art installation. Courtesy of the Guardian.