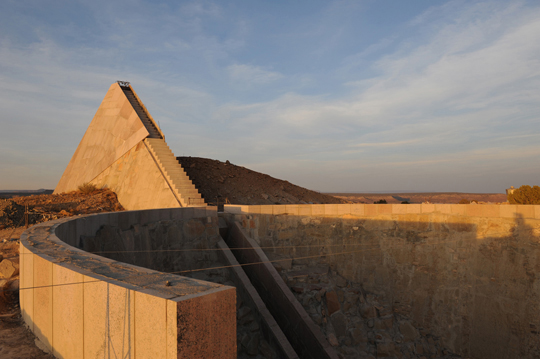 Some timepieces are intimate, think Breitling or Rolex or your trusty Timex [does anyone wear a watch anymore?] Some timepieces are monumental — prime examples might include Big Ben in London, the astronomical clock in Prague and Munich's Rathaus-Glockenspiel,.
But then, there are time-keeping instruments on an altogether different scale — ones that dominate a significant portion of the landscape. And, where better to find one such example than the stark, high desert of New Mexico.
From the Guardian:
Somewhere in the deserts of New Mexico, a nail is embedded into a type of flat-topped mountain known as a mesa. The positioning of this nail, shielded from the elements by a tin can, took days of trial and error, with astronomical measurements provided by the US Naval Observatory and the help of a surveyor. Finally, the correct spot was located: exactly in alignment with the axis of the Earth from the south pole to the north.
This nail – which I braved rattlesnakes to find, on a mountaintop strewn with slabs of granite – was fundamental to the success of Star Axis, an extraordinary naked-eye observatory that is the brainchild of artist Charles Ross. Only when Ross was sure he had the orientation precisely correct could he begin to build the structure he had dreamed about – an obsession that has consumed him since 1971.
Star Axis is one of the world's defining earthworks, otherwise known as land art. In the late 60s, a generation of young, New York-based artists, inspired by the space race but also by the turmoil of Vietnam, decided that galleries weren't big enough to house their visions. So they struck out, choosing instead to make works on an epic scale, sculpted from the elements, in the astounding desert landscapes of the US south-west.
Read the entire story here.
Image: Star Axis. Courtesy: Star Axis / Charles Ross.