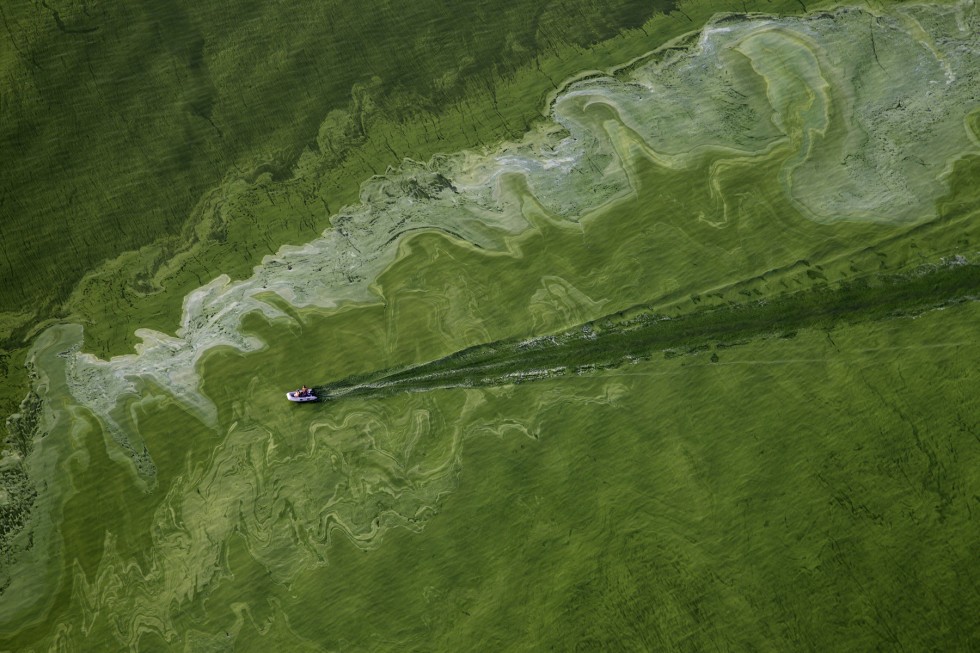 If Mother Earth could post a handful of selfies to awaken us all to the damage, destruction and devastation wrought by its so-called intelligent inhabitants, these would be the images. Peter Essick, National Geographic photo-essayist, gives our host a helping hand with a stunning collection of photographs in his new book, Our Beautiful, Fragile World; images of sadness and loss.
See more of Essick's photographs here.
From ars technica:
The first song, The Ballad of Bill Hubbard, on Roger Waters' album Amused to Death begins with an anecdote. It is the story of a wounded soldier asking to be abandoned to die on the battlefield. Told in a matter-of-fact tone by the aged voice of the soldier who abandoned him, it creates a strong counterpoint to the emotion that underlies the story. It evokes sepia-toned images of pain and loss.
Matter-of-fact story telling makes Peter Essick's book, Our Beautiful, Fragile World, an emotional snapshot of environmental tragedies in progress. Essick is a photojournalist for National Geographic who has spent the last 25 years documenting man's devastating impact on the environment. In this respect, Essick has the advantage of Waters in that the visual imagery linked to each story leaves nothing to chance.
Essick has put about a hundred of his most evocative images in a coffee table book. The images range over the world in location. We go from the wilds of Alaska, the Antarctic, and Torres Del Paine National Park in Chile, to the everyday in a Home Depot parking lot in Baltimore and a picnic on the banks of the Patuxent River.
The storytelling complements the imagery very well. Indeed, Essick's matter-of-fact voice lets the reader draw their emotional response from the photos and their relationship to the story. The strongest are often the most mundane. The tragedy of incomplete and unsuccessful cleanup efforts in Chesapeake Bay is made all the more poignant by the image of recreational users enjoying the bay while adding further damage. This is the second theme of the book: even environmental damage can be made to look stunningly beautiful. The infinity room at Idaho Nuclear Engineering and Environmental Laboratory dazzles the eye, while one can't help but stare in wonder at the splendid desolation created by mining the Canadian Oil Sands.
Despite the beauty, though, the overriding tone is one of sadness. Sadness for what we have lost, what we are losing, and what will soon be lost. In some sense, these images are about documenting what we have thrown away. This is a sepia-toned book, even though the images are not. I consider myself to be environmentally aware. I have made efforts to reduce my carbon footprint; I don't own a car; we have reduced the amount of meat in our diet; we read food labels to try to purchase from sustainable sources. Yet, this book makes me realise how much more we have to do, while my own life tells me how hard that actually is.
This book is really a cry for attention. It brings into stark relief the hidden consequences of modern life. Our appetite for energy, for plastics, for food, and for metals is, without doubt, causing huge damage to the Earth. Some of it is local: hard rock mining leaving water not just undrinkable but too acidic to touch and land nearby unusable. Other problems are global: carbon emissions and climate change. Even amidst the evidence of this devastation, Essick remains sympathetic to the people caught in the story; that hard rock mining is done by people who are to be treated with dignity. This aspect of Essick's approach gives his book a humanity that a simple environmental-warrior story would lack.
In only one place does Essick's matter-of-fact approach breakdown. The story of climate change is deeply troubling, and he lets his pessimism and anger leak through. Although these feelings are not discussed directly, Essick—and, indeed many of us—are deeply frustrated by the lack of political will. Although the climate vignettes are too short to capture the issues, the failure of our society to act are laid out in plain sight.
The images are, without exception, stunning, and Essick has done about as well as is possible given the format. And, therein lies my only real complaint about the book. I don't really get on with coffee table books. As you may have guessed from my effusiveness above, I love the photography. The central theme of the book is strong and compelling. The imagery, combined with the vignettes, are individually evocative. But, as with all coffee table books, the individual stories lack a certain… something. A good short story is evocative and complete, while still telling a complex story. The vignettes in coffee table books, however, are more like extended captions. What I want instead is a good short story.
Read the entire story here.
Image: Fertilizer: it helps more than just the plants grow. Unfortunately, all that is green is not good for you. The myth that because farmers use the land they are environmentally conscious is just that: a myth. Courtesy of Peter Essick, from his book Our Beautiful, Fragile World.