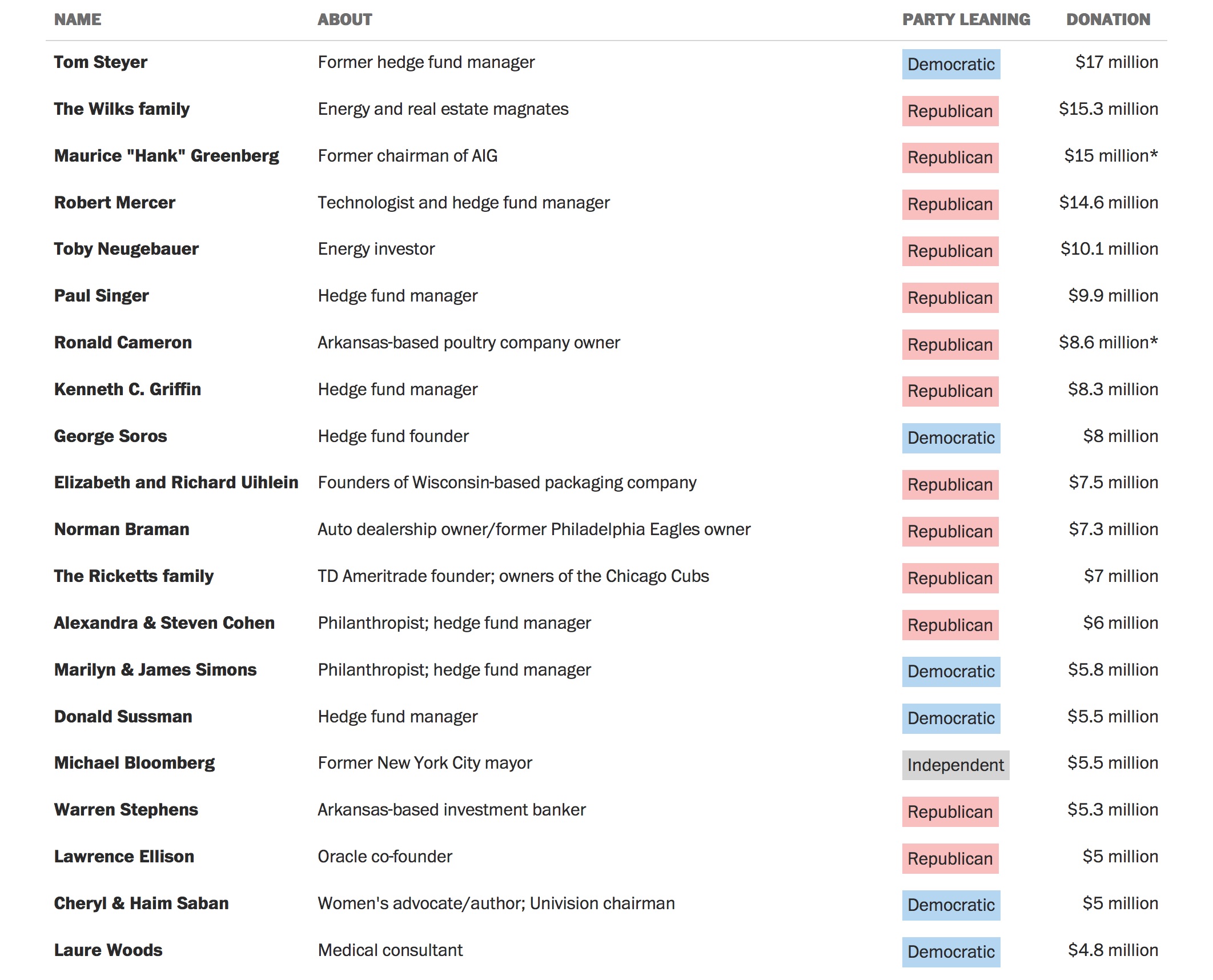 Money continues to swirl and flow in US politics. During a presidential election season the dollar figure is now in the billions. The number is unfathomable and despicable. And, yet according to the US Supreme Court money is free speech so it's perfectly legal — although morally abhorrent (to many).
Thus, by corollary, many people feel (and know) that the system is twisted, rigged, and corrupt. Money sways lawmakers. Money helps write laws; it overturns others. Money elects. Money smears. Money impeaches. Money filters news; it distorts fact. Money buys influence, it buys access.
Of course, in a democracy, this would seem to be a travesty — many millions of ordinary citizens without thousands or millions of dollars are left without a voice. Because the voice of the many is completely usurped by the voice of the few, replete with their expensive megaphones and smartphones with speed-dial connections to their political puppets. But, don't forget, we — the ordinary citizens of the US — don't live in a democracy; we live in a plutocracy. The wealthy few, rule for and by themselves.
A small example, collectively, the top 20 political donors have so far, this election season alone, donated a staggering $171.5 million to their favorite political action committees (PAC). This doesn't even include money that's funneled directly to the candidates themselves.
It's obscene and corrupt.
But, hey, it's free speech, so we're told.
From Washington Post:
Since 2015, super PACs have raised $607.7 million and have spent $452 million. The top 50 donors together have supplied $248.2 million—41 percent of the money raised to date.
The largest share of the money has come from donors who have given between $1 million and $5 million. Five contributors giving more than $10 million each contributed 14 percent of the total raised.
…
Many of the biggest super PAC donors have spread around their money, financing multiple super PACs that back presidential hopefuls and congressional candidates. They hail from various sectors, with many drawing on fortunes made in the energy industry, on Wall Street and in health care.
The Washington Post is also tracking donations made through "ghost corporations" whose backers cannot be identified. Clicking on "ghost corporations" below brings up a list the corporate contributors to super PACs who have not yet been publicly linked to individual donors.
Read the whole story here.
Image: Snapshot of top donors compiled by Washington Post.